This application for CAD users is used to check documents as per the design standards and is fully integrated with SolidWorks software.
Why spend hours checking designs?
Currently in many organizations, senior designers spend hours in checking the design document (CAD). Part of the checking is to verify if standards are correctly applied and some routine checks. It takes a long time to check these things manually and it doesn't add much value to the functional aspect of the design.
Design checker puts intelligence in the system so that the manual checking can be reduced. It targets at automating the process of checking standards in design document. Every organization has it's unique standard for design document. These standards can be added in the system through simple and friendly user interface. Once the knowledge is put inside the process, each design document goes through these checks and gives information to the designer regarding violation of the rules. This reduces checking time and human errors.
Preserve design uniformity,  maintain quality
Design checker can be used across design teams. The teams may be at geographically different locations but if they are using the same standard file for checking design, then uniformity is maintained across the designs. This helps a lot in downstream operations.
Design checker has 3 main functionalities
Build checks manually

Build checks automatically from a CAD document

Run checks on a CAD document
Checks available in Design Checker:
The checks are categorized for different types of documents like assembly/part/drawing. These checks can be easily built using designer friendly interface.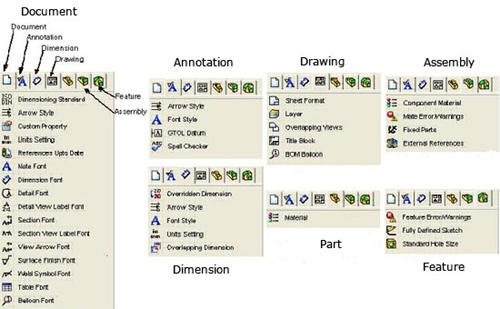 View or modify design standards
Design standards put in place can always be changed. There is user interface, which allows user to view the existing standards and modify them. Any new check can be created using existing check.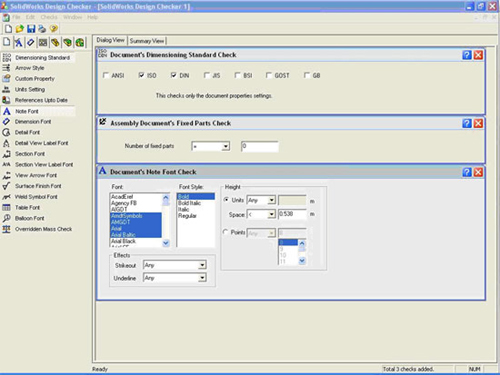 Design checker provides facility to view the results as passed/failed. The failed checks can be corrected through design checker interface only. This makes the correction process easy and much faster as compared to manual correction.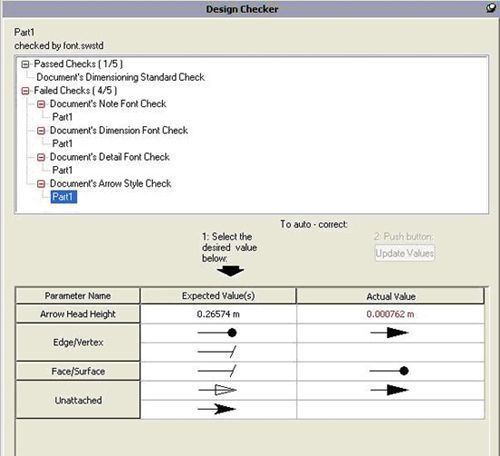 Report generation:
Design checker has an option to view results and then save reports. Reports are saved in XML format and are easy to interpret.
Automated checks builder:
Design checker has an option to read current CAD document and create checks based on it. User needs to define which checks he/she wants to create from the current document and they are built automatically. User can view those checks and modify if required. Many organizations create template CAD document and refer to it in new designs. This functionality of design checker can make use of such template documents and build the checks, which can be further used.
Used as part of Design Release Process:
Design checker can be used as a step in the design release process. It can be integrated with any PLM System.

Easy set-up, easy to use, fully integrated with SolidWorks software
Enabling design checker is a simple, single-click set-up. It includes complete online help. You can access all the controls for design checker from the SolidWorks menu bar. The design checker user interface is opened in the task pane when user demands it. So, the entire design process stays consistent and intuitive. Design checker provides the same Windows® look-and-feel that has made SolidWorks the easiest-to-learn-and-use 3D CAD software available.